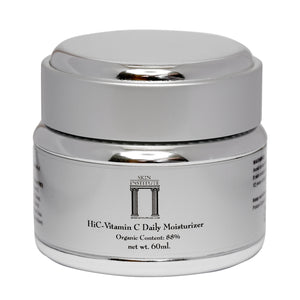 Delivers high concentrations of valuable vitamin C esters directly to the skin on a daily basis, helping to support, balance, brighten and revive dry, dull, listless skin Featuring soothing organic aloe, antioxidant-rich organic blueberry, raspberry and cranberry extracts, with omega 3 & 6 enriched rosehip oil, clarifying white willow bark and more, all combine to create a gentle, yet effective daily use cream.


Features & Benifits:
Antioxidant
High in Vitamin C
Soothing
Revives tired skin
Brightens dull skin


Key Ingredients:
Organic Aloe Leaf Juice (Aloe Barbadensis), Organic Coconut Oil (Cocos Nucifera), Emulsifying Wax (Cetyl Alcohol, Stearyl Alcohol, Polysorbate 60), Glycerin, Stearic Acid, Vitamin C Ester (Ascorbyl Palmitate), Phenoxyethanol, Vitamin E (Tocopherol), Sunflower Seed Oil (Helianthus Annuus), Green Clay Extract (Montmorillonite), Organic Blueberry Fruit Extract (Vaccinium Corymbosum), Organic Red Raspberry Fruit Extract (Rubus Idaeus), Organic Cranberry Fruit Extract (Vaccinium Macrocarpon), Organic White Willow Bark Extract (Salix Alba), Rosehip Seed Oil (Rosa Canina), Organic Neem Seed Oil (Melia Azadirachta), Organic Rosemary Leaf Extract (Rosmarinus Officinalis), Organic Sunflower Seed Oil (Helianthus Annuus), Organic Alcohol, Xanthan Gum, Tetrasodium Glutamate Diacetate


After cleansing the skin with Skin Institute Green Tea Facial Cleanser or Radiance Facial Wash, apply to the desired area (face, neck, décolleté). May be used daytime and/or evening. If using serums or retinoid products, apply them first, allowing them to penetrate before applying moisturizer.
Organic Aloe Leaf Juice (Aloe Barbadensis), Organic Coconut Oil (Cocos Nucifera), Emulsifying Wax (Cetyl Alcohol, Stearyl Alcohol, Polysorbate 60), Glycerin, Stearic Acid, Vitamin C Ester (Ascorbyl Palmitate), Phenoxyethanol, Vitamin E (Tocopherol), Sunflower Seed Oil (Helianthus Annuus), Green Clay Extract (Montmorillonite), Organic Blueberry Fruit Extract (Vaccinium Corymbosum), Organic Red Raspberry Fruit Extract (Rubus Idaeus), Organic Cranberry Fruit Extract (Vaccinium Macrocarpon), Organic White Willow Bark Extract (Salix Alba), Rosehip Seed Oil (Rosa Canina), Organic Neem Seed Oil (Melia Azadirachta), Organic Rosemary Leaf Extract (Rosmarinus Officinalis), Organic Sunflower Seed Oil (Helianthus Annuus), Organic Alcohol, Xanthan Gum, Tetrasodium Glutamate Diacetate